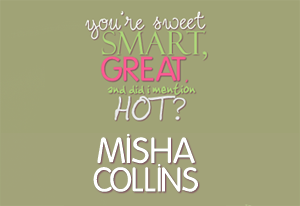 To persuade you, I sang y'all a song.
givemishachance.mp3 -
VOTE FOR MISHA. HE'LL BRING US TOGETHER IN LOVE AND HARMONY.

IF BARNEY AND DEAN ARE THE FINAL TWO, I WILL DRAW A PICTURE OF THEM DOING SOMETHING INAPPROPRIATE
TO EACH OTHER
.
MAKE IT SO.
So when did my LJ turn into a capslock comm? Basically every comment on my last post was in all caps. Y'all are insane and I love you. XD

Alright... summer is pretty officially upon us. *headdesk*
So... anyone got any recommendations for things I should get obsessive over this summer? :D I'd really like book recs, but movie/anime/tv recs are also entirely awesomely acceptable.
I'm already thinking about watching Wolf's Rain because of

tahu
, but I reeeeeeeeeally need something good to read... heh.